We encourage our parish members to participate in the various ministries we have here at Christ the King.
Please keep in mind that in order to volunteer you MUST have your SET complete.
Altar Linens
Bernie King
berniek@aol.com
Art & Environment
Rebecca Hanning
rhan5@yahoo.com
Audio & Visual
Jarrod Townsend
jtownsend@ctk-catholic.org
(480) 245-4116
Boy Scouts
Boy Scouts Troop 335
Tom Skinner
tom@skinner.net
Carmelites
Carmelites
Fran August
faugust@cox.net
Fall Fiesta
Karen Fordyce
bnkfordyce@msn.com
Funerals
If you have experienced a death in your family and need to make funeral arrangements, please contact Anthanette Donaldson at (480) 844-4478.
Great Adventure Bible Studies
Deacon Tom Bishop
tbishop@ctk-catholic.org
H.O.P.E.
Helping Other People Emerge
Click here to learn more.
Knights of Columbus

Read or download here for more information.
Click here for more.
Council 3419
Eric Schuetz
ricschuetz@gmail.com
Lectors
Bernadette Rosado
jeshuamercy@yahoo.com
Life Issues
Bobi Martinez
cblaugh@gmail.com
Liturgical Ministries
Altar Servers
Extraordinary Ministers of Communion
Lectors
Sacristans
Usher/ Greeter
To access the Liturgical Ministries Mass Schedule, click HERE.
For more information contact
Deacon Tom Bishop
tbishop@ctk-catholic.org
Martha's
Tony Nicotra
usmc2488@cox.net
Men's Ministry
Click here for more.
Randy Fornoff
rjfornoff@cox.net
Money Counters
Pam Reid
preid@ctk-catholic.org
Music
Music Ministry
Liturgy is "the participation of the People of God in 'the work of God'"; It is the "exercise of the priestly office of Jesus" in which God is worshiped and adored and people are made holy. God begins the work of sanctifying people in time and space and brings that work to completion. Those who respond to God in worship and in service are given the privilege of becoming co-workers in the divine plan.
—From Built of Living Stones: Art, Architecture, and Worship
Guidelines of the National Conference of Catholic Bishops
The music ministry at Christ the King leads the people of our congregation in the sung prayer of the Divine Worship (Mass) so that "the whole body of the faithful may be able to contribute to the active participation which is rightly theirs" (Constitution on the Sacred Liturgy).
The music we sing is gathered from the vast repertoire of liturgically appropriate chant, hymns, folk, and popular music that is the rich legacy of over 50 years of music ministry at Christ the King.
---
Gloria-from The Mass of The Transfiguration
---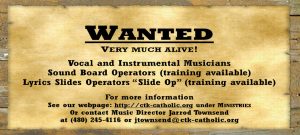 Music Ministers
Singers of all voice ranges are welcome and should possess a good sense of pitch and rhythm.
Music reading is a plus but not a requirement.
Instrumentalists are needed to play guitar, bass, keyboards, and stringed, brass, wind, and percussion instruments.
Instrumentalists should be able to read chord charts (lead sheets) and possess improvisational skills.
Rehearsals
Adult choir for the 4:00pm, 7:00am, 9:00am, and 11:00am Masses
*Monday nights from 6:30pm-8:30pm
(For vocal musicians, although instrumentalists are welcome to attend.)
*40 minutes before the start of each Mass
(For vocalists, instrumentalists, and AV personnel.)
In addition to the regular Sunday Mass schedule, musicians are invited and encouraged to participate on certain Holy Days.

Youth Choir: One weekend per month and special occasions
*Monday Nights from 5:30-6:15
Music for 1:00pm and 5:00pm Spanish Masses is handled by 2 groups,
Coro Cristo Rey and Sonrisa de Cristo.
For more information, please contact:
Jarrod Townsend, MA
Director of Music and Audio Visual Media
Christ the King Catholic Church
Office: 480-245-4116
jtownsend@ctk-catholic.org
Informative Reading
Daily Readings via the USCCB
Sing To The Lord by the Committee on Divine Worship of the United States Conference of Catholic Bishops
Singing The Mass by Bishop Thomas J. Olmsted
Liturgiam Authenticam by the Congregation for Divine Worship
De musica sacra et sacra liturgia
Home Page of The Vatican
Practicing Choral Music: Ten ideas for the singer who doesn't think they can practice on their own
Safe Environment Training Link
Built of Living Stones by USCCB
Nullity
Call the Parish Office
(480) 964-1719
Pastoral Care
By virtue of our Baptism and Confirmation we are called to conform ourselves to Christ, who is the Good Samaritan for all who suffer.  If you are interested in learning more about becoming involved in this ministry, please contact Anthanette Donaldson:
adonaldson@ctk-catholic.org
(480) 844-4478
"We know love by this, that he laid down his life for us – and we ought to lay down our lives for one another" (1 Jn 3:16). When we draw near with tender love to those in need of care, we bring hope and God's smile to the contradictions of the world. When generous devotion to others becomes the hallmark of our actions, we give way to the Heart of Christ and bask in its warmth, and thus contribute to the coming of God's Kingdom. (Message of Pope Francis for the World Day of the Sick 2014, P3)
Additional Ministries:
Cancer Ministry welcomes people who contact the St. Peregrine Cancer Shrine seeking support for themselves or a loved one.
St. Peregrine Prayer Group gathers at the St. Peregrine Cancer Shrine on the 2nd and 4th Thursday of the month from 7- 8:30 p.m. for intercession, scripture meditation and saying the rosary. 
Prayer Shawl Ministry Group meets every Thursday morning from 9:30 to 11:00 a.m. Prayer shawls are an important part of the St. Peregrine Cancer Shrine. Our volunteers meet weekly to knit, crochet and quilt. The shawls are touched to the St. Peregrine relic and then mailed to those who request them. 
Please note: If you are taking communion to the sick on behalf of Christ the King, please notify the Pastoral Office.
Christ the King School
For fifty years, Christ the King Parish has crafted a tradition of providing excellent quality Catholic education to families in Mesa and the neighboring communities. We bring to interested families a Catholic education; strong in all facets of human development, outstanding in Gospel values, with a culture of excellence in academics. No other school can truly duplicate the educational experience that happens in a Catholic School. The values and faith, the expectations, and reality of academic focus, disciplined philosophy, actions and minds support what engaged parents want for their children.
Because our children are our hope and our joy and the future of the Church and society, we support parents in placing the child at the center the educational process, promoting academic excellence and moral values, and fostering lifelong service. Through tremendous support from parents, faculty, staff, and the parish, the school provides the highest quality programs and services for our students.
Christ the King Catholic School is not just good for our students. Having a Catholic School brings life to our Parish. Some families choose Christ the King as their parish because of our school, some choose Catholic School because they are members of our parish and they see the outstanding role models found in Christ the King students. Our students return as parents, and alumni. They and their families stay because they have fallen in love with the community– an easy thing to do here at the Parish of Christ the King!
Contact the school office at 480-844-4480 to find out about admissions, finances, and assistance. Or spend time on the school website at this LINK.
St. Peregrine Cancer Shrine
Click here to visit the St. Peregrine Cancer Shrine's website.
Minsterios conducidos en español
Adoración
Rafaela Loara
aleafar@cox.net
Coro Cristo Rey
Gerardo Cortes
gerardocortes86@yahoo.com
Encuentro Matrimonial
Mireya Campos
mcampos@ctk-catholic.org
Grupo Guadalupano
Amparo Pinal
amparopinal@yahoo.com
Grupo de Oración
Juan Aguilar
sarahi1031@hotmail.com
Matrimonios
Mireya Campos
mcampos@ctk-catholic.org
Quinceañeras
Favor de llamar a la oficina de la parroquia para pedir informacion.
RICA
Ritos de Iniciación Cristiano para Adultos
Luis & Tina Vicente
luismfelizmentecasado@hotmail.com
Semilla Maya
Domingo Felipe
tunku_pili@yahoo.com